Memento Mori is an interactive window installation that celebrates the cycles of life and death, growth and decay. In the tradition of Día de los Muertos and All Saints Day, we created interactive altars to remember that with life comes death, and with death, new life.
How can we create an interactive installation that revolves around the theme of Time?
Collaborators: Anne Goodfriend, Jordan Frand, Yue Hue
Role: Concept Development, Art Direction, Fabrication, Physical Computing, Installation
Tools: SketchUp, Illustrator, Processing, Arduino, Solder Iron, Wood Fabrication Tools
Concept Development
We were allocated two display windows near Washington Square Park in New York City and our challenge was to create an installation that centered around the theme of Time. We were interested in exploring the cycles of life and death. Here are some of our initial designs.
DESIGN
We decided that we would have a Life Window (Dia De Los Muertos themed) and a Death Window (All Saints Day themed). Both windows include screens and web cams capturing the street. We would have a capacitive touch button on the glass of the window that would capture the user's face and implant it on the screen so they would now see themselves in the altar windows. We built a 3D model of the space in SketchUp in order to get the precise measurements of the shelves and the screens we would need for the display. Our programmer Yue used her face as the example.
We build our own capacitive touch button using conductive copper tape and wire. This button would trigger the entire interaction of the installation.
We wired up 50 LED votive candles for our Death Window and we programmed to flicker during certain parts of the interaction. We also programed a fan to blow flower pedals in the Life Window during the interaction.
When a person approached each window, touching the window in the indicated area would take a photo of their face.
They would then see their face captured on the screen in the altar.
And a skull would fade in over their face.
In the Life Window, flowers would grow on the skull and blow off, triggering the fan (placed out of sight) to blow flower pedals inside of the window.
In the Death Window, the skull would begin to pixelate and decay...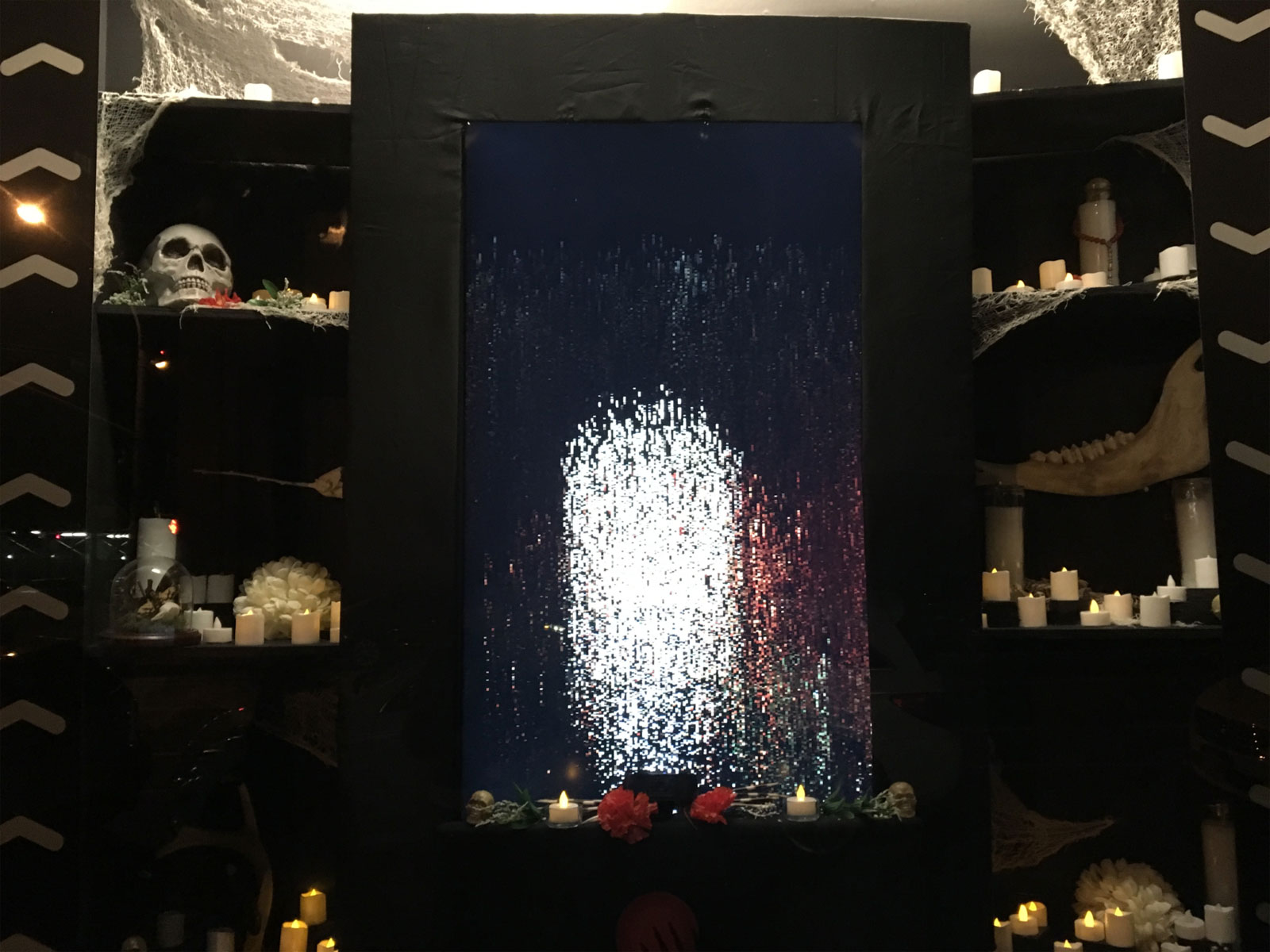 ..then fall off the screen like a waterfall, triggering the votive candles to flicker and go out.
Take Aways
From watching people interact with our windows, we realized that because it was winter and windy when the installation was set up, the flowers blowing inside the windows didn't really have the effect that we intended. On the other hand, our installation was the only one that did not require maintenance throughout its duration in the display.